Source: Coingape.com
Bitcoin: Why the Bear Market May be Over
Bitcoin (BTC-USD) has been in the midst of a tumultuous bear market for roughly a year now. The world's best known digital asset topped out at about 19,500 late last year, and had declined by 84% to a low of $3,170 in recent days. However, since then Bitcoin has amassed an impressive rally, registering five consecutive up days and gaining 30% in the process.
Bitcoin 1-Year

Source: BitcoinCharts.com
Bitcoin is now trading around $4,000, and could be in the opening stages of its next bull market. It appears that the period of maximum negativity and pessimism concerning Bitcoin has passed, and the next bull cycle could elevate Bitcoin's price to fresh, new all-time highs over the next several years.
Why the Bear Market May be Over
Bitcoin's decline has been epic this year, as the digital currency gave up nearly 85% of its value. However, the declines seem so epic primarily because this is the first time a Bitcoin bear market has been in the spotlight in the mainstream media and the general public. The truth is that Bitcoin has been through several bull/bear cycles in which the digital asset had appreciated considerably, only to deflate by 80% – 90%.
Bitcoin Historic Data

If we look back on a long-term chart of Bitcoin's price action, we see that Bitcoin has gone through three major up waves. The first one took Bitcoin's price from about $2 – $200, or about 10,000%, the second wave took the price up from about $50 to roughly $1,200, or approximately 2,300%, and the third wave brought Bitcoin's price from $200 all the way to over $19,500, or nearly 10,000%.
Now, each one of these waves has been followed by a substantial washout,or a bear market. After wave one, Bitcoin declined from about $200 to $50, or 75%, after wave two Bitcoin came down from about $1,200 to $200, or approximately 83%, and this most recent wave had been followed by a washout of approximately 84%.
Additionally, if we look at the chart patterns, they appear extremely similar in terms of declines following a bull market advance. In fact, the current bear market looks nearly identical to the 2014/2015 slump. In both cases the price gradually drips lower, and then a distinct, sharp washout period takes place right before the price rebounds, stabilizes, and then proceeds to move higher gradually.
We may be at that crucial point now, right after the price has washed out, rebounded, is in the process of stabilizing, and could proceed to move higher going forward.
Signs of a Bottom
The cryptocurrency market has been in severe panic mode lately, a phenomenon typically observed at or very near to significant market bottoms. While Bitcoin had declined by 84%, the entire cryptocurrency complex crashed by nearly 88% from a peak of about $828 billion to just $100 billion in recent days. Additionally, many major coins gave up more than 90% of their values during this savage decline.
Cryptocurrency Complex Market Cap

Source: CoinMarketCap.com.
For instance, Bitcoin Cash (BCH-USD) lost approximately 98% from peak to trough in this bear market. Litecoin (LTC-USD) crashed by 94%, Dash (DASH-USD) gave up 96%, and so on. This has been a real blood bath for many of the most prominent and promising coins, which signals now may be the time to buy.
Bitcoin Cash Since Inception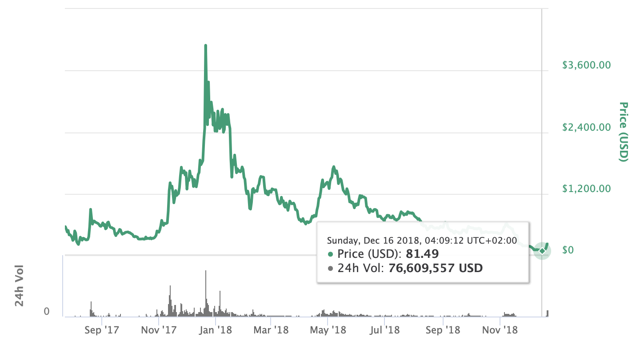 Some of you may be saying "96, 98%, time to buy? These things can go to zero, they're worthless." I disagree, and I will explain why in the next section.
Why Cryptocurrencies are Not Going Away
Time does not stand still, the current financial order has become extremely inefficient in certain regards, and digital currencies represent a real alternative to the status quo. This does not mean that cryptocurrencies will make fiat currencies obsolete next year, or even five to 10 years from now. No, this simply implies that digital currencies can supplement the current fiat system, and with time can continue to play an increasingly larger role in the increasingly digitized and decentralized global financial order.
After all, digital currencies are far more in tune with the perpetually advancements in technology. Cryptocurrencies know no borders, no boundaries, and are not subjected to traditional government, central bank, or corporate limitations. They represent a true form of currency of the people and for the people.
Therefore, it's extremely unlikely that prominent market leading cryptocurrencies will simply cease to exist, or will go to zero. In fact, the opposite is likely to happen, and as time goes on, the underlying assets are likely to experience more demand as their functionality attributes improve coupled with increased global adoption.
Why You Should Not Doubt Bitcoin
There's no shortage of negative press about Bitcoin these days. Just like so many analysts were "sure" the price was going to $100K when Bitcoin was at $20K, now the "analysts" are convinced the price could go much lower,…