The fundamentals have been negative for Bitcoin lately with trading bans in Asia and investors pouring capital into other cryptocurrencies diluting the investment pool for cryptos. I'm not going to recap all of the news surrounding cryptos in this article. Instead, I'm going to focus on price action and what those actions tell us about Bitcoin traders and whether we're due for another move higher in March and beyond.
Does It Feel Bullish?
Believe it or not, BTC has rallied 90% of its value from its lows of roughly $5,500 at the time of writing this article. However, the rally doesn't feel as bullish as in the past. This is due in part to traders who are still recovering from their losses, the lack of bullish fundamentals surrounding cryptos, and low trading volume.
In this article, we'll look at possible reasons why volume has been lower. Also, we'll analyze the price level targets that are likely to lead to the next rally or the next down move. In my opinion, the volume levels will likely lead to illiquidity and choppy markets, but Bitcoin can still rally. I hope the levels in this article help you identify where traders might have buy and sell orders placed and when triggered, might lead to explosive moves.
Any rise will bode well for those investing in the Bitcoin Investment Trust (OTCQX:OTCQX:GBTC) or following the on-going developments if the first Bitcoin ETF through the Winklevoss Bitcoin Trust ETF (COIN).
Volume Lower
"The average number of trades recorded daily has roughly dropped in half from the December highs and touched its lowest in two years last month." – Fortune
With a 60% fall in the currency, it makes sense that investors are cautious before getting back in, but I believe there's more to it than fear and negative fundamentals.
Why The Low Volume?
Traders seldom use stop losses, and some bullish traders that went long are still sitting on those positions. As Bitcoin fell, more positions were added by the hardcore bulls expecting a recovery. Those investors are currently in the red without any more money to invest. They're waiting for the correction to bottom, and bounce higher. As a result, BTC has fewer bulls involved in the current rebound. Translation: Low volume and choppy rallies.
In the chart below, the lines and circles show the likely areas where traders had entry orders to go long based on spikes in daily volume and price action. Notice the large green daily candles indicating a surge of buying.
The yellow lines and circles represent entry orders at $14,500 and $16,000 from late last year to earlier this year.
The green lines and green circles represent near-term price levels where bulls went long on multiple months.
We can see in both December and February; traders went long between $9,200 and $10,500 levels (green circles).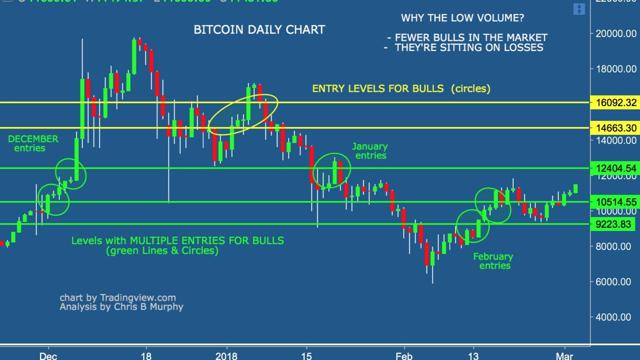 Exhausted Traders
We've all been there. We're sitting on a loss, and when an investment finally recovers, we can't wait to get out. Even though we're still bullish on the fundamentals, the trade is simply too exhausting to hold onto any longer. As soon as breakeven is reached or we get back 50% or so of our losses, we unwind our positions before the downtrend resumes.
Having traded currencies and crude oil for a long time, I can't tell you how many times I was right about a trade or the direction of the market, and yet, I still lost money. Unless you're a kazillionaire from getting your trades right all the time, we've all gotten exhausted from holding a losing position and at some point, you simply want out. I believe that's why volume is down for Bitcoin: There are fewer bulls in the market due to them sitting on losing positions or they're too exhausted and deflated from the correction to get back in.
Bitcoin chart showing exhaustion playing out.
The purple rectangle to the right shows where traders sold off in February once BTC bounced off its bottom earlier that month.
If traders held BTC from December of last year (purple rectangle to the left), they would have reached their break even at $11,500 in February.
Other traders were happy to see a recovery in their brokerage account when BTC bounced 90% from its value at the lows, particularly if they had added to positions at those lows. At $11,500, traders might have unwound BTC to recoup some of their losses. With fewer bulls taking on long positions and some of the existing bulls exhausted, the market will likely be choppy and volatile on any pushes higher.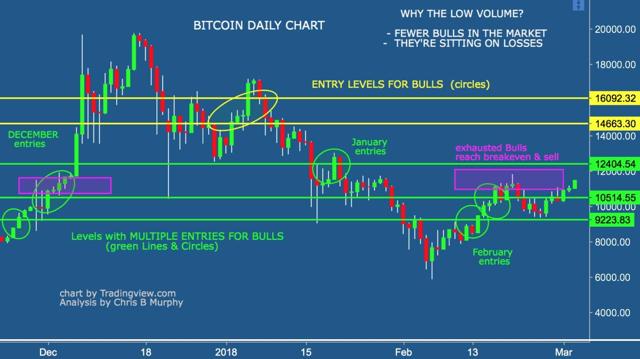 The Next Levels:
In the above chart, the critical zone is $12,400 to $12,800 (labeled January entries). I believe this area is the crucial area for the Bitcoin recovery to resume. It marks the start of the December bullish rally (see the large bullish green candle in December).
If Bitcoin closes above the critical zone on a weekly basis, meaning it closes on a Friday above $12,800 on the weekly chart, BTC will have put up multiple days with higher highs and higher lows.
Be Careful of selling pressure at the…