Image Source
In the last few years, we have not seen many events that rival the introduction of digital assets into the investment markets. Needless to say, this "rise to fame" has not been without its share of controversy, and many (both at the analyst level, and at the government level) have suggested that cryptocurrencies should be scrapped altogether. In our view, strong trend activity in these assets makes them suitable for trading positions that are short-term in nature. We had a great deal of success last year on the run-up in valuations that was enjoyed by those holding the Bitcoin Investment Trust (OTCQX:GBTC). But we believe that all the "hype" has run its course, and that it is time to start betting in the other direction.
In our view, we are one small news event away from a total collapse in Bitcoin and other digital assets like GBTC. When this does happen, the drop will be massive, as retail investors (with little or no other experience in the financial markets) run for the exits. We are short GBTC and our momentum trigger will be seen with a downside break of 9.60. The end is near – and, if you are long Bitcoin assets, it is time to find somewhere else to put your money.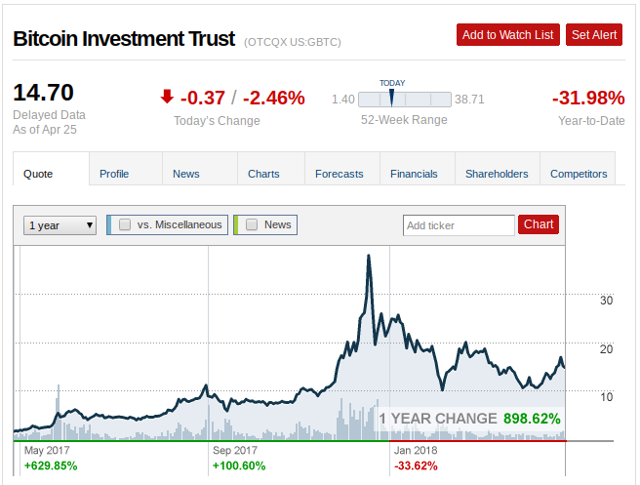 Chart: CNN Money
Over the last year, GBTC is higher by a massive 898.62%. This is the rally that put digital assets in the spotlight, but it is somewhat suspicious to see that the declines in GBTC have not received the same level of attention. The financial news media knows that many people turn off the television when they see disagreeable stories (or stories that contradict a viewer's investment position). GTBC and other digital assets have only seen one-way trading activity for most of their histories, and so the demise of the digital asset has been avoided. Already this year, GBTC has lost 31.98% of its value. In our view, this is what was truly meant when the first market trader coined the term "correction."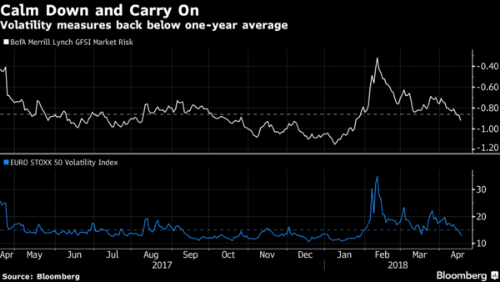 Global Volatility Chart: Bloomberg
One of the potential factors we view as a positive for the crypto space would be a strong re-injection of volatility. To be certain, this could still happen this year. But, overall the trends have appeared to have reversed in ways that suggest market volatility (both in the U.S. and globally) has peaked.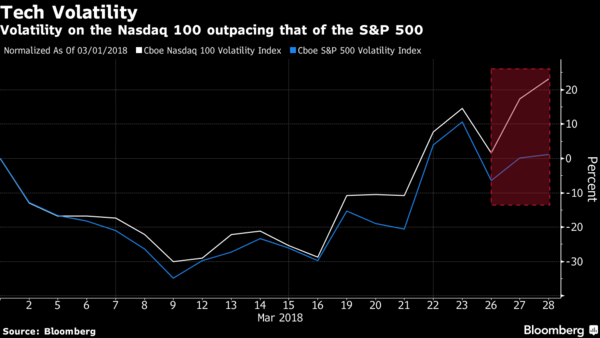 Technology Volatility Chart: Bloomberg
Moreover, the volatility that has been present in the market has been disproportionately directed at the technology sector. We believe there are alignments here, in terms of the trend in investor sentiment likely to be experienced by most traders long cryptocurrency. These are all elements that could lead to panic-selling in GBTC.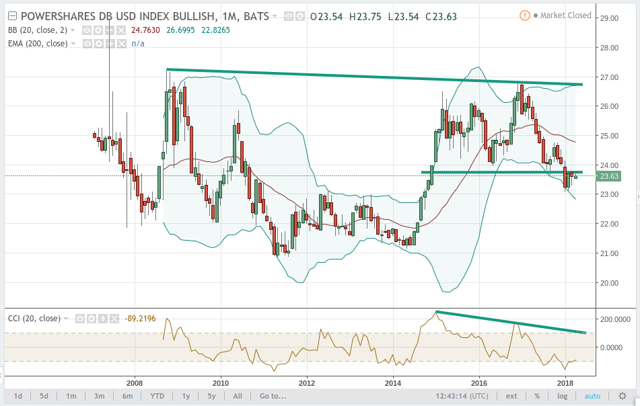 Chart Analysis: Dividend-Investments.com
Of course, there will always be financial wildcards that could keep GBTC in the market's favor. One of these factors could be the long-term pressure that is being placed on the U.S. dollar. Activity in the U.S. dollar viewed through the PowerShares DB US Dollar Index Bullish ETF (NYSEARCA:UUP), has left much to be desired. The ETF is traditionally expected to post gains during times of market uncertainty. But, so far this year, that has not been the case. We do believe that the greenback's inability to rally during the heightened stock volatility seen this year is actually a positive for GBTC. Markets are still defining the role cryptocurrencies will play in the global economy, and Bitcoin's ability to post gains when the U.S. dollar is in decline still remains to be seen.
When making assessments about the long-term outlook for GBTC, the problems stem from the fact that there is very little history in these instruments. It is perplexing that there is anyone at this stage that claims to be a cryptocurrency "expert." How is this even possible? How can someone be an "expert" on a topic that is completely new to the world? It's mind-boggling (or just plain ridiculous). And this complicates the outlook when determining long-term forecasts for these assets.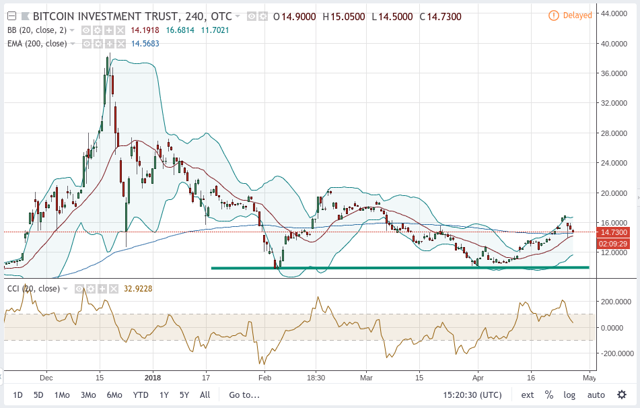 Chart Analysis: Dividend-Investments.com
This is precisely why technical chart analysis will continue to be essential when trading GBTC. In early February, the market was experiencing its first round of volatility in 2018. This generated fresh lows in GBTC below psychological levels at 10. We are once again pressuring this support zone, and we believe that a break of 9.60 in GBTC spells doom for holders of cryptocurrencies. The close proximity here suggests that it is time to sell and start betting the other way (if you are currently long).
In our view, we are one small news event away from a total collapse in Bitcoin and market components like GBTC. When this does happen, it will probably come out of nowhere and the declines could be tied to a story that does not seem important on its face. This is the riskiest of the risky assets, and the current market environment makes GBTC a high-probability "sell" at current levels. We are at a critical inflection point in terms of the broader…