Source: Elevenews.com
The Network Effect: Why Bitcoin Is Going Much Higher
Bitcoin (BTC-USD) (COIN) has been in a bear market for about eight months now. Ever since the price peaked at nearly $20,000 in December Bitcoin has been in a downward spiral, and has dropped by roughly 70% from peak to trough.
Bitcoin: 1-Year Chart

Source: BitcoinCharts.com
Nevertheless, Bitcoin is showing signs of stabilization, and has successfully defended the $6K level on four separate occasions. The cryptocurrency is seemingly building a base around the $6,000 level, and its price is unlikely to go much lower from here. In addition, Bitcoin's network effect coupled with other elements should drive its price significantly higher over the long term. The Bitcoin bear market will likely conclude relatively soon, which makes this a good time to add to positions in Bitcoin as well as in other systemically important digital coins.
Bitcoin Fails, Once Again
For now, the Bitcoin bear market continues as the cryptocurrency failed to break out in late July. This is not unusual though, as we've seen prolonged declines in Bitcoin before. The current rout closely resembles the early to mid-stages of Bitcoin's prior bear market that lasted around a year and a half, and saw prices drop by approximately 80% from peak to trough before the recovery began.
Bitcoin: Seven-Year Chart (logarithmic)

If we go back further we see that Bitcoin had a similar percentage drop in the 2013 bear market, where its price fell by roughly 75% from peak to trough. So, as we observe the history of Bitcoin's bear markets we see that on average Bitcoin deflates by about 70-80% from peak to trough in such periods.
This leaves us with essentially three levels to look at for a possible bottom in Bitcoin's price. The first is the 70% retracement from the roughly $19,500 top in December, which already brought Bitcoin down to the $5,850 level. The next point is a 75% decline, which would bring prices down to about the $5,000, and what appears to be a worst-case scenario, an 80% decline which would bring Bitcoin all the way down to $4,000. The $4-5K area also represents the next level of solid support from a technical perspective.
So, the good news is that Bitcoin already has hit the first area of significant support, the 70% retracement, the $5.85K level. Therefore, it's possible that Bitcoin is forming a sustainable long-term bottom around the $6K level right now, and may not see new lows from here. However, almost anything is possible in the world of Bitcoin, so it's also possible that some future news or developments cause the digital asset to drift slightly lower.
Looking at all the available variables I give it about a 50% probability that the Bitcoin bottom is in, about a 30% probability that Bitcoin retraces back down to the $5K level, a 15% likelihood that Bitcoin goes all the way down to test the $4K level, and about a 5% possibility that Bitcoin could go lower than $4K.
Why Bitcoin is Not Likely to Fall Much Further
While it's good practice to prepare for all types of possible outcomes when you are dealing with a relatively new, unprecedented, and somewhat unpredictable phenomenon like Bitcoin, there are several key reasons why Bitcoin is not likely to fall much further from here.
The first factor is the mining costs. There are many factors that give Bitcoin its value – its potential as a digital global currency, its store of value attributes, its limited supply, its worldwide multibillion-dollar infrastructure, as well as numerous other elements. However, one of the key factors that makes Bitcoin valuable is that it's quite expensive to mine.
The cost of mining Bitcoin varies greatly by country, from an incredibly low $531 in Venezuela to an astronomically high $26,170 in South Korea. However, most of the countries where Bitcoin is widely mined like Russia, Iceland, the U.S., and other nations typically have mining costs in the $4,500-5,000 area. This infers that Bitcoin likely has a mining cost of around $4,800 on average.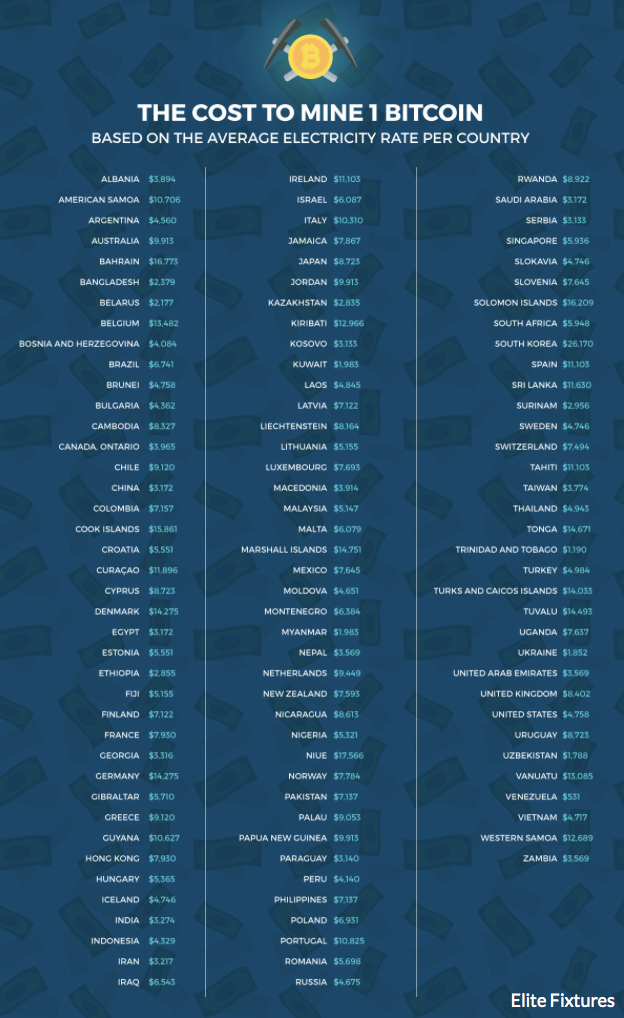 Source: MarketWatch.com
Moreover, the cost of mining Bitcoin will likely only increase with time, because as fewer Bitcoin's are left to mine, they become increasingly more difficult to derive. The current global energy usage required to mine Bitcoin is estimated to equate to the amount of power used by a modest sized country like the Czech Republic with a population of about 10 million people. However, eventually the mining requirements are estimated to approach roughly 16 times that. This implies that eventually we could be looking at an average mining cost of about $76,000 per Bitcoin.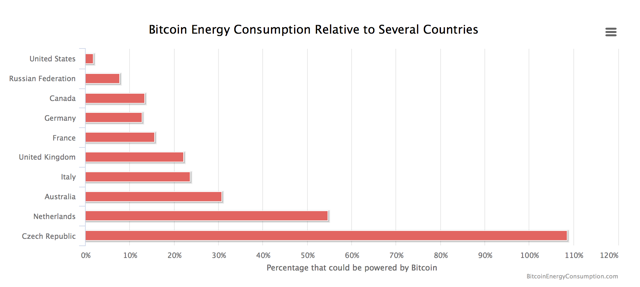 Source: Digiconomist.net
The $4,800 approximate mining cost per Bitcoin, or breakeven cost, also coincides closely with the 75% retracement level, and prices are not likely to fall below this point. The primary reason is because at around this level many Bitcoin miners will be forced to suspend operations, which would constrain…