The past few weeks have been turbulent for Bitcoin (BTC-USD) in what of course has already been an incredible volatile year. The price of Bitcoin seemingly began to climb up from its 'floor' of the mid-$6000 level all the way up to over $8,200 by the end of July. However then a sudden mini-bear market began, as the price fell over the next several weeks until breaking $6,000 on August 13 and 14 briefly before bouncing back up to the mid-$6000's.
(Source: CoinMarketCap)
The $6,000 level is important because ever since Bitcoin's rapid rise in fall of last year even after its decline it never sunk, except one other time, below the $6,000 level. It would bounce back and forth, up and down after its bubble collapsed but whenever it would come close to $6,000 it would climb up again. The only other time this past year it dropped below $6,000 was briefly in late June before it would rally over 36% over the course of the next month. Beyond that it hasn't seen $6,000 since October 2017.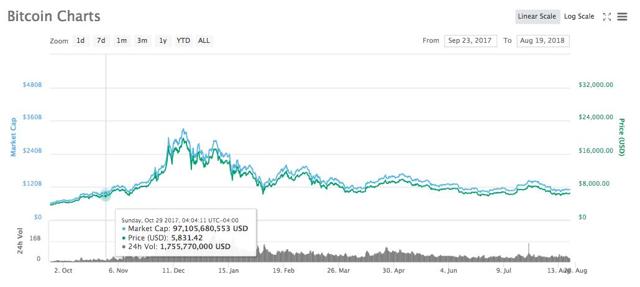 Bitcoin's new price lows come at a remarkable time as it seems other coins have dropped even more. This has resulted in a reversal of the trend where Bitcoin's market share has been declining and now suddenly Bitcoin is once again over 50% of the market capitalization of cryptocurrencies out there.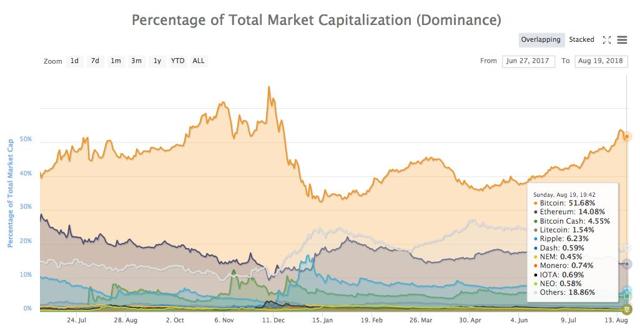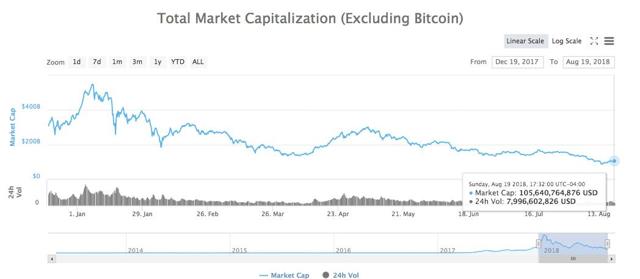 This past week has seen that trend reverse slightly, as while Bitcoin is up 2.41% in the past week, Ripple (XRP-USD), EOS (EOS-USD), and Stellar are up 15.77%, 5.40%, and 2.53% respectively. However Ethereum (ETH-USD) and Bitcoin Cash are down 5.78% and 0.52% too.
This is all strange because there has been little news in the cryptocurrency world that could merit a decline in valuation. In recent weeks there have been no substantial updates from the Securities and Exchange Commission or other regulators, no private institutions announcing major competing cryptocurrencies, no massive hacks or security breaches or any personalities going out there and evangelizing cryptocurrencies as the beginning of a new digital age.
However this also may be precisely why Bitcoin has broken its $6,000 floor again – because the "hype premium" has been sucked out again, leaving us with a Bitcoin that is far more closely valued to what people believe its discounted future asset valuation may be.
Cryptocurrency Markets Are At A Standstill For The Moment
As I've discussed in my coverage of Bitcoin and other cryptocurrencies over the past year a lot of the price action and valuations of these various cryptos has been extraordinarily volatile and "soft" because a lot of their demand, and thus price gains, were very mucy from public attention and euphoria.
The irrational euphoria, whereby the retail public simply wanted to get in on the asset class regardless of price and without an understanding of its valuation, vanished largely back in January when cryptos across the board declined by 50% to 75% in many cases.
However since then there still seem to have remained some holders who entered the asset class amid and due to the irrational mania and who have yet to let go in the months since, hoping for a Bitcoin revival to $20,000 or more. With Bitcoin and other crypto's recent stagnation it seems those last remaining irrational holdouts have left too, essentially cleaning out the few bits left of the "hype-premium."
The fact that essentially nothing is going on with Bitcoin or other cryptocurrencies at the moment has the effect therefore of reducing public attention and interest, thereby reducing further momentary demand that is based off of arbitrary interest over an actual valuation expectation.
In the coming months I think we'll see the hype-premium return however. Right now it's a lull in the cryptocurrency markets precisely because many of the regulatory, legislative, business, financial instruments (OTCQX:GBTC) (COIN), and technological transformations are in the midst of being developed and rolled out.
When we come to say winter of this year and we begin seeing coherent cryptocurrency frameworks put into place by the government, companies releasing their own cryptocurrencies for their platforms, a financial infrastructure whereby cryptocurrencies are much easier and safer to acquire and trade, and technology that makes cryptocurrencies more useful and fluid, then I think we'll see public interest return again at some level to the asset class.
Conclusion
The institutionalization of cryptocurrency is still in process but is a necessary step towards its long-term use and stability as a serious financial instrument and technological product. Currently we are in a lull whereby public demand simply has completely dissipated, leaving the asset at a downgraded price without any surplus from hype or retail awareness.
As time goes on however I believe that many cryptocurrencies will continue to thrive as the industry continues to become more controlled and firm, as it now already is far more so than it was months ago let alone years ago. Bitcoin may then…