There is a high probability that Bitcoin (BTC) has already put in a bottom. However, the bear market is far from over yet and the price may take some time to break and remain above the 21 Week EMA in order to formally begin a new bullish cycle. Even if we refuse to believe that this is the bottom, the daily inverted chart for BTC/USD clearly shows that the price has run out of room for further movement inside the rising wedge seen on the inverted chart. So, if the price has to fall further, it will first have to rise. On the inverted BTC/USD chart, that would mean a fall towards the bottom of the descending channel before another rally to the upside.
The inverted chart for BTC/USD shows that the last time the price entered a rising wedge; it broke below it and continued to decline until it reached the bottom of the descending channel. If the same were to happen this time as is highly probable, we should expect Bitcoin (BTC) to rise above a price of $4,000 in the weeks ahead. A break below the 21 Day EMA on the inverted chart for BTC/USD at this point would be exactly like a break below the 21 Day EMA for the second time after Bitcoin (BTC) had topped out. The second time it happened when Bitcoin (BTC) was trading around $15,000 confirmed that the pullback was not just a minor correction but Bitcoin (BTC) had in fact entered a long term bear trend.
A break below the 21 Day EMA on the inverted chart for BTC/USD would have the exact same consequence which means Bitcoin (BTC) will formally exit the bear trend but it may take some time to enter the bull trend. In between, there will be a period of sideways movement which could last through most of 2019 and BTC/USD will remain range bound during that time. That being said, the probability of a fall to $3,000 or lower levels is extremely low at this point. The majority expects that to happen just as the majority expected the price to fly to $25,000 or $30,000 when in fact it was just about to top out. During times like these, you will see some of the most reputed analysts and traders give in to emotions and call for a fall to $2,000 or $1,000 maybe because people think they don't have much to lose reputation wise being wrong as a bear compared to being wrong as a bull.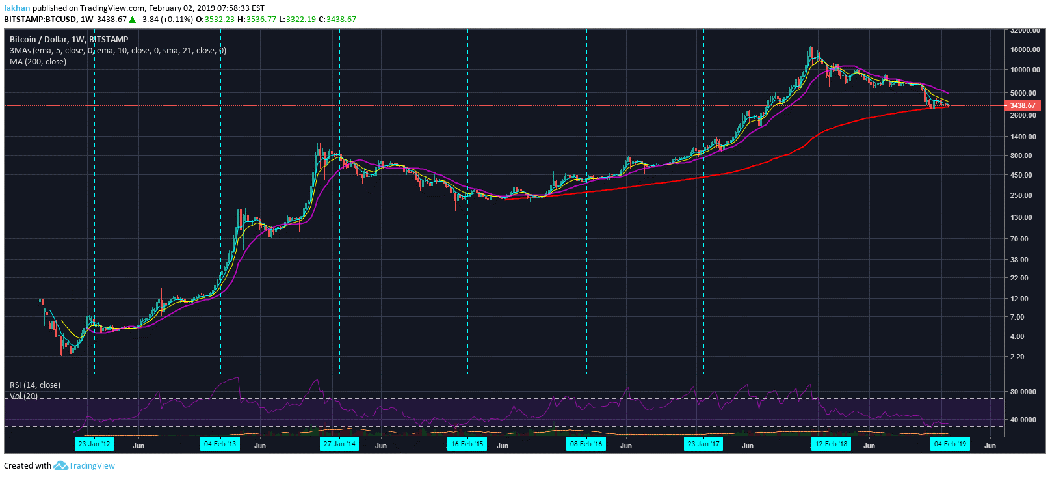 This is true for the most part. If you call for a BTC/USD price of $100,000 you are criticized more easily compared to someone who calls for a price of $1,000. This is why even some of the most reasonable voices are afraid to come out and speak their mind as to what they believe is the future of Bitcoin (BTC) or other cryptocurrencies from an investment standpoint. We have to give credit to World Bank and IMF for saying the industry has a lot of potential and the market is expected to grow five times. However, some of the industry's own leaders like Charles Hoskinson think that Bitcoin (BTC) may take ten more years to get back to where it fell from while investors like Tim Draper and John McAfee believe we will get way above the previous all-time high in the next two years.
Earlier this year, Tom Lee of Fundstrat made several predictions about Bitcoin (BTC) all of which were proven false as the market continued to plunge deeper with no floor in sight. However, there have been some people who made very reasonable predictions that seem to have come true. One of such predictions was made by Arthuer Hayes, the founder of Bitmex who called for a bottom between $2,000 and $5,000. We seem to have already bottomed in that range and the price is expected to recover in the weeks ahead with a steady rise towards $4,000 followed by a retest of the previous market structure around $6,000 sometime in the near future.